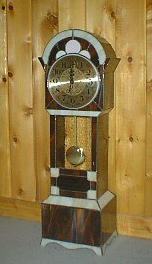 Welcome to the

Stained Glass Wizard!!


Thank you for visiting our on line studio.  We have stained glass creations that are perfect for unique gifts or as beautiful additions to your home and office decor.  
We have

Clocks; Jewelry boxes; Mirrors;

Picture frames; Suncatchers; Dreamcatchers; Unicorns; Dragons; Indian art; Night lights; Cartoon characters; Birds;  Napkin, tissue, card and match holders; Classic cars & trucks;  Statues; Window inserts; Holiday decorations; Miniature pool table;

and many other items. 

Each one is individually made by Maine craftsmen.   We also do custom work made to your specifications.

GIVE A SPECIAL GIFT THAT WILL BE DIFFERENT AND UNIQUE  OR

ADD  BEAUTIFUL ACCENT PIECES TO YOUR HOME AND OFFICE DECOR.

TO ORDER THROUGH THE WEB SITE

WE USE PAY PAL.

CALL, FAX OR EMAIL US FOR CUSTOM ORDERS.  WE DO TAKE MASTERCARD AND VISA.

YOU CAN VISIT OUR STUDIO AT:

417 SOUTH MAIN STREET

(ROUTE 201)

SOLON, MAINE