We're located on Route 201 in Solon, Maine

PO Box 174, Solon, Maine 04979

207-643-2666    fax 207-643-2510

For payment we take credit cards, checks,

cashier checks or money orders.

STAINED GLASS PROJECT  BASIC INSTRUCTIONS

COMPLIMENTS OF THE STAINED GLASS WIZARD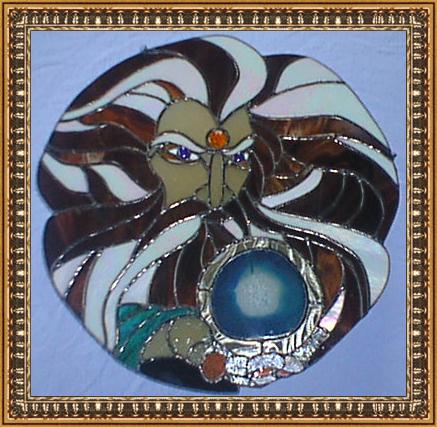 MAKE 3 COPIES OF YOUR PATTERN.   ONE COPY IS TO PLACE THE CUT OUT PIECES OF THE PATTERN ON.  ONE COPY IS TO PLACE THE CUT PIECES OF GLASS ON. AND THE LAST COPY TO PLACE THE FINISHED GROUND PIECES ON AND TO PIN THEM TOGETHER. 

THEN TRACE THE PATTERN , WITH CARBON PAPER, ONTO SOMETHING STIFF, LIKE A MANILA FILE FOLDER, AND NUMBER EACH PIECE.  THEN CUT OUT PATTERN THAT WAS TRACED ONTO THE STIFF PAPER AND LAY IT OUT ON ONE OF THE PATTERNS

SELECT YOUR GLASS AND TRACE THE PATTERN PIECES, WITH WHITE OUT PEN, ON THE APPROPRIATE COLOR GLASS AND NUMBER THE PIECE THE SAME AS THE PATTERN PIECE NUMBER.   CUT ALL PIECES AND LAYOUT ON 2nd PAPER PATTERN

GRIND ALL THE PIECES, AS PRECISE AS POSSIBLE, AND PIN TOGETHER ON 3rd PAPER PATTERN.  WHEN ALL PIECES ARE GROUND AND FIT BACK TOGETHER TO YOUR SATISFACTION, TAKE THE PIECES OFF ONE AT A TIME, WIPE IT WITH PAPER TOWEL (TO MAKE SURE IT IS CLEAN SO THE FOIL WILL STICK) AND APPLY FOIL.  PIN FOILED PIECES ON THE 3rd PAPER PATTERN AS YOU FOIL THEM.  MAKE SURE OVERLAPPED FOIL MEETS EVENLY.  TRIM WITH A SAFETY RAZOR IF NEEDED TO MAKE IT EVEN.

APPLY FLUX, WITH A BRUSH, TO ALL THE FOIL SO THE SOLDER WILL STICK.      SOLDER ALL JOINTS.

REMOVE THE PINS AND TIN THE OUTER EDGE.       MAKE SURE YOU HAVE GOOD VENTILATION, SUCH AS A FAN AND PREFERABLY BY A WINDOW.      SOLDER ALL SEAMS ON THE FRONT OF THE PIECE.    AFTER DOING THE FRONT SIDE, BE SURE TO TURN THE PIECE OVER AND REPEAT THE FLUX AND SOLDER STEPS ON THE BACK SIDE.     IF IT IS TO BE A HANGING PIECE, SOLDER HOOKS AT APPROPRIATE SOLDER JOINTS.       AFTER COMPLETING THE SOLDERING, WASH OFF WITH WATER AND LET IT DRY.        AFTER IT IS COMPLETELY DRY, THE SOLDER CAN BE LEFT SILVER OR YOU CAN APPLY BLACK OR COPPER PATINA TO CHANGE THE COLOR OF THE SOLDER

WIPE WITH PAPER TOWEL AND POLISH, ACCORDING TO POLISH DIRECTIONS ON POLISH, ON A SCRAP CARPET PIECE

IF IT IS A HANGING PIECE, ATTACH HEAVY FISHING LINE OR CHAIN TO THE PREVIOUSLY INSTALLED HOOKS.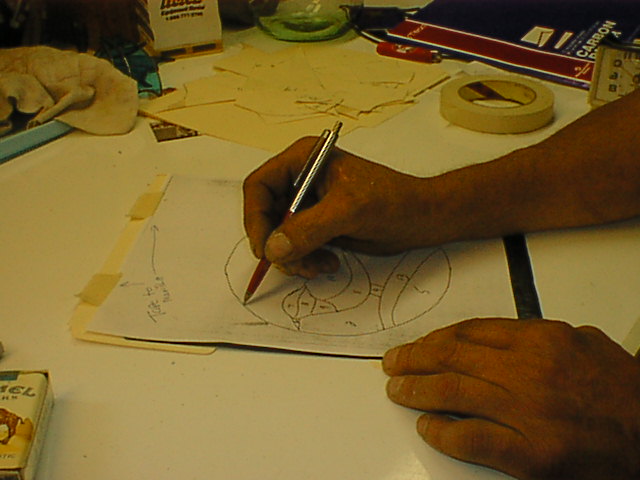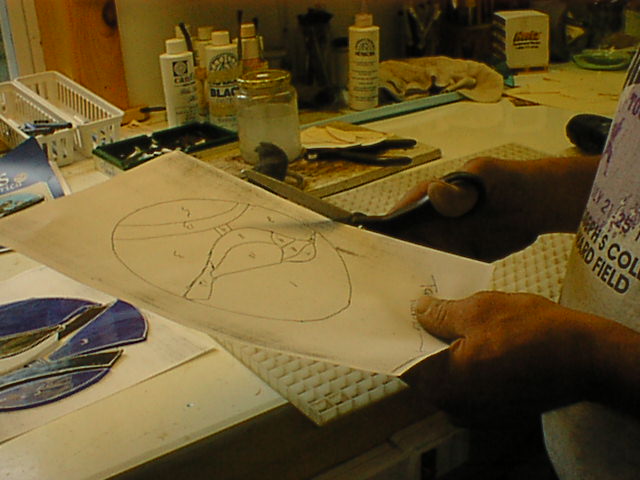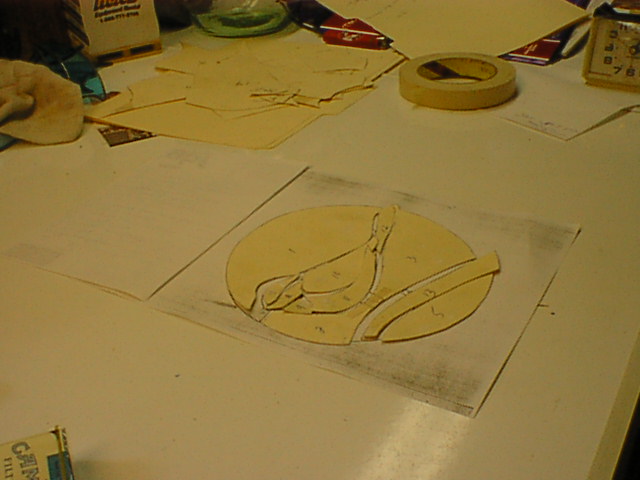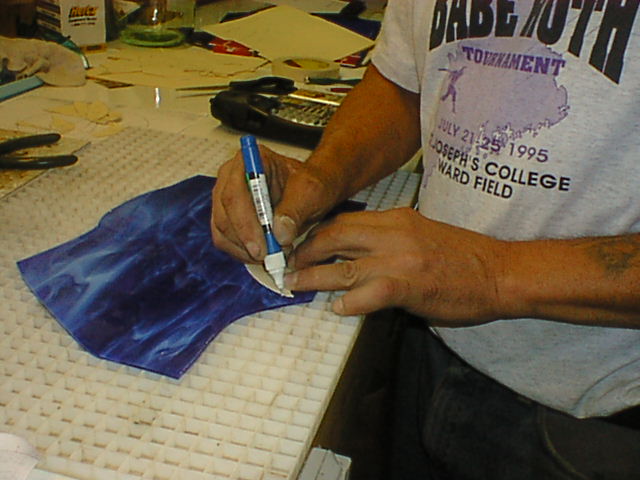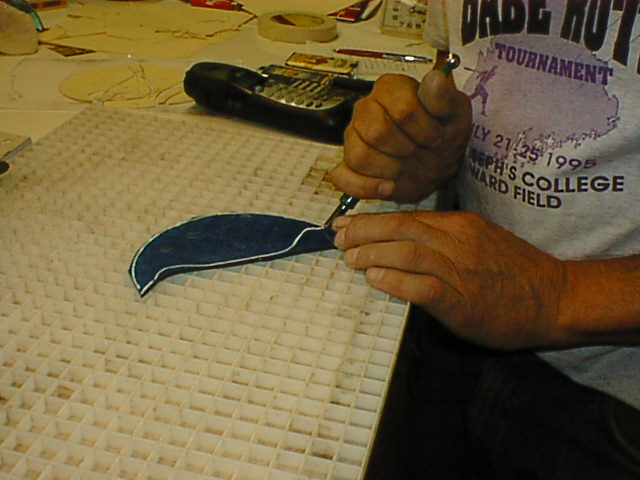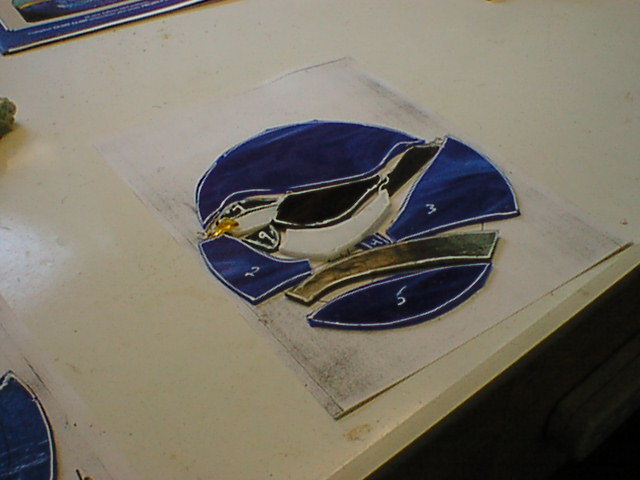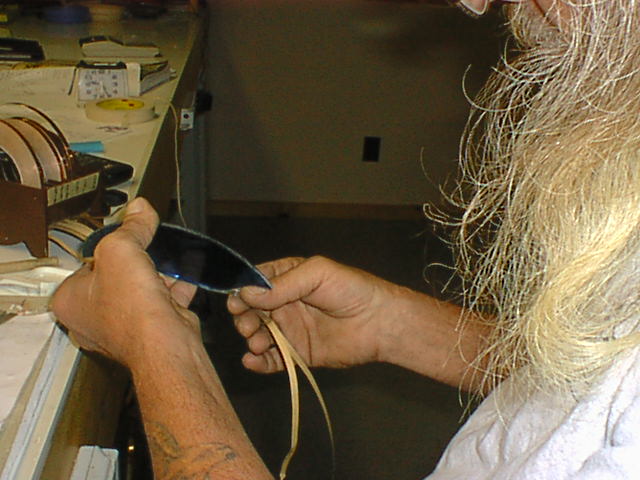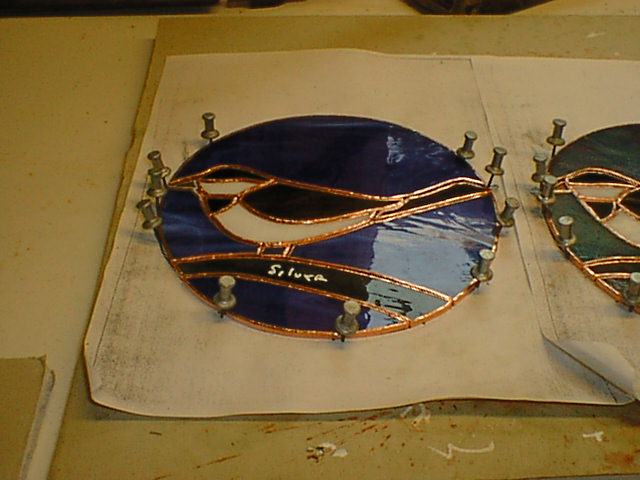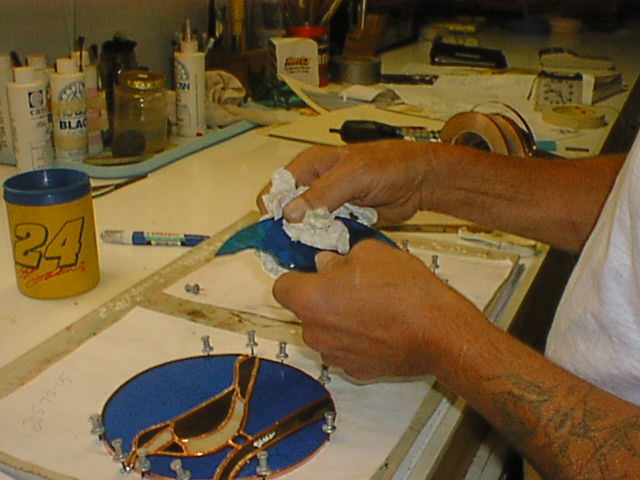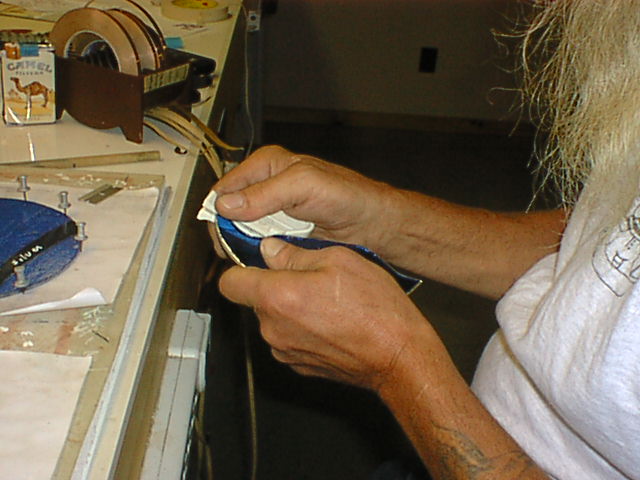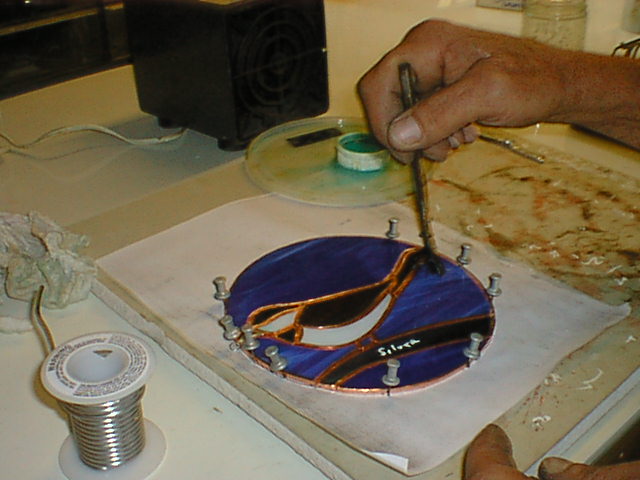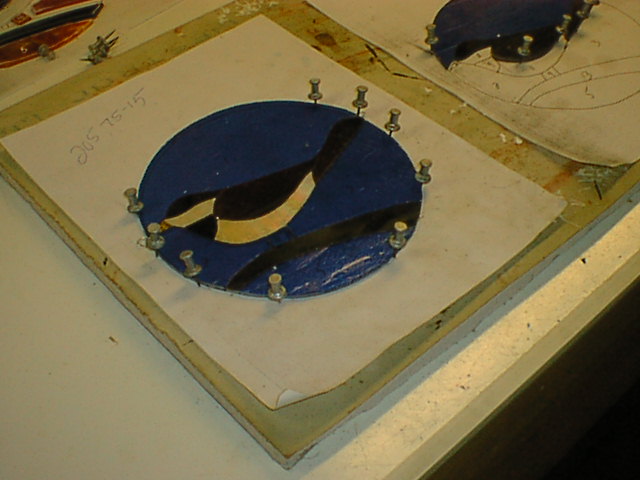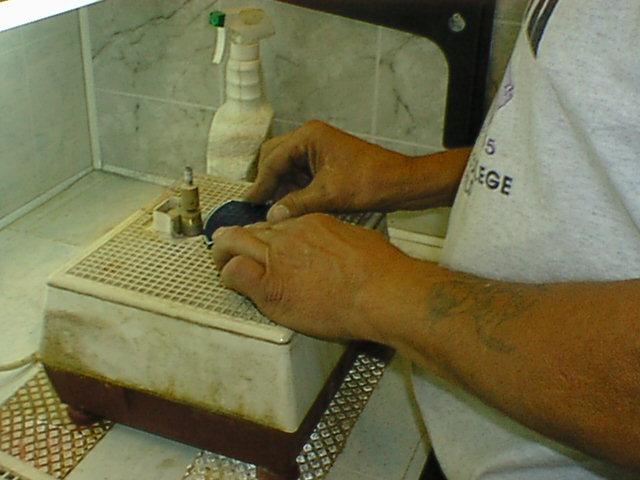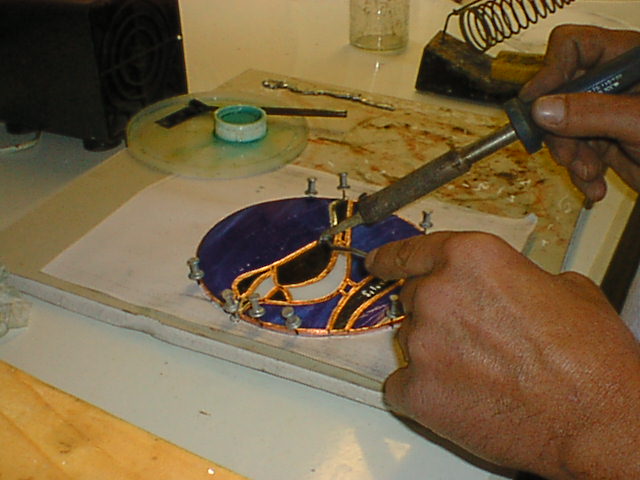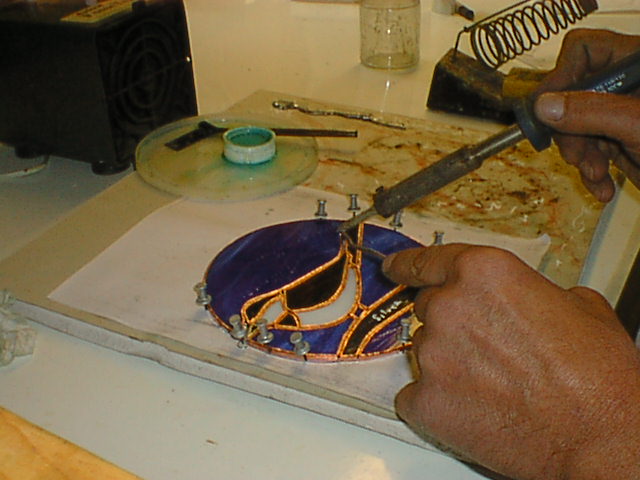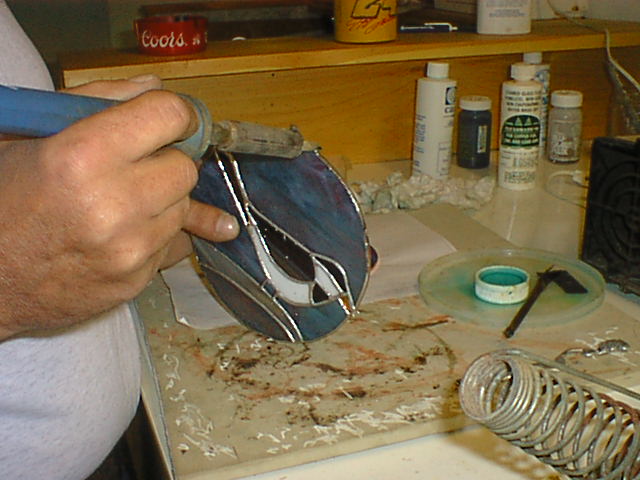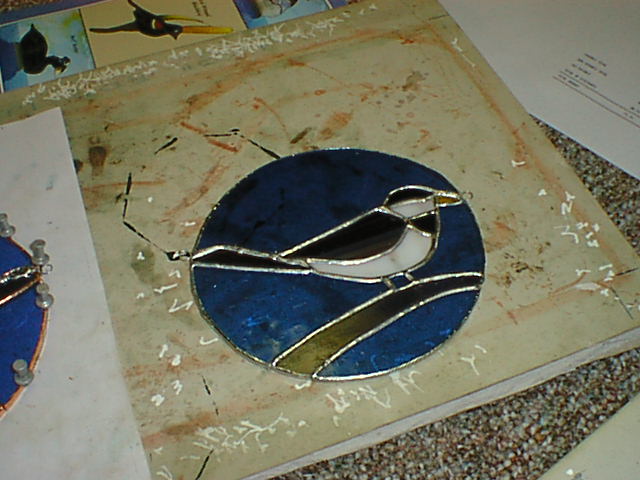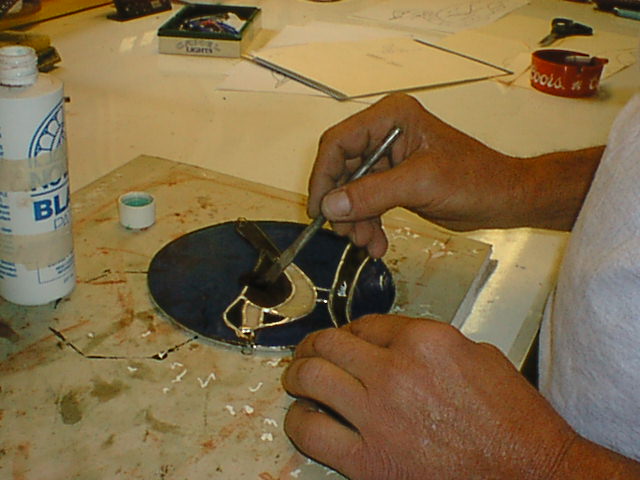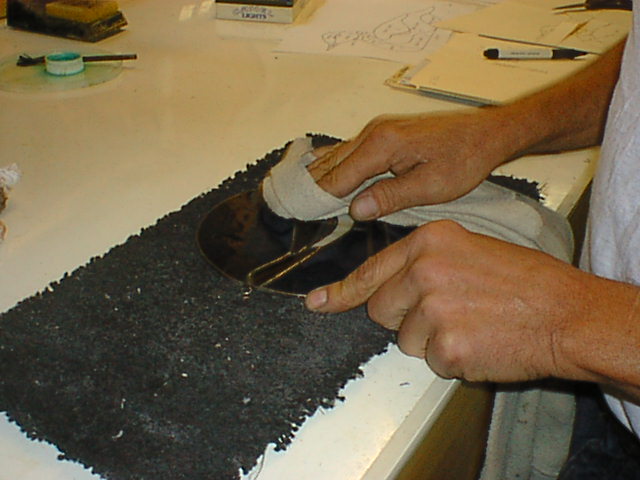 ALL DONE!  NOW, ADMIRE!!!!!