STAINED

GLASS WIZARD

Jewelry Boxes

Here are some of our stained glass

jewelry boxes.  You can choose the

style and color.  Some can be made

with or without beveled glass.  Most

can be engraved with name and/or

date.  If there is something special you

want made which you don't see here,

give us a call and we will talk about it.

Call, fax or email us: 

207-643-2666      fax: 207-643-2510 

DRAGON JEWLERY BOX

closed

11 inches by 11 inches

$259  item #67

open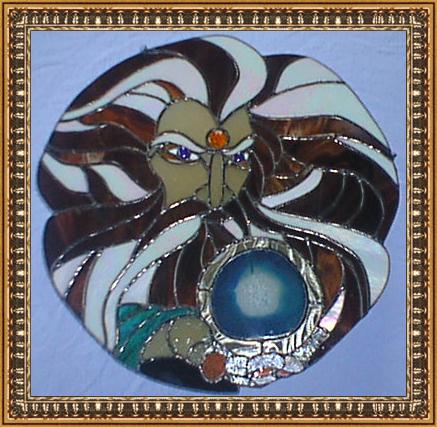 EACH ITEM IS INDIVIDUALLY MADE AND MIGHT

VARY A LITTLE FROM THE PICTURED ITEM.

TO CHOOSE THE COLORS, TO PERSONALIZE THESE WITH NAME AND/OR DATE AND/OR TO ACID ETCH A STENCIL ON THE LID,  CONTACT US.

WE ACCEPT MASTERCARD AND VISA

207-643-2666      FAX: 207-643-2510  

WE CAN SHIP THEM WITH A GIFT CARD TO A DIFFERENT ADDRESS.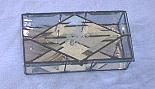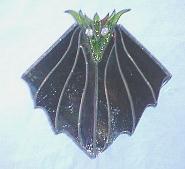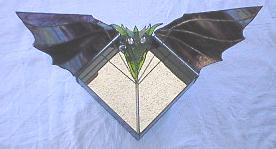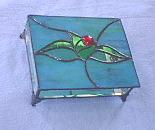 JEWELRY BOX  #1

this one is made with beveled glass and clear glass

8 inches by 4 1/2 inches 

$90    item #1F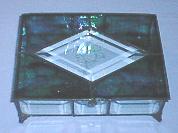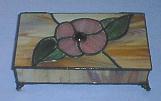 FLOWERED JEWELRY BOX

8 inches by 4 1/2 inches  

  $135      item #1G

JEWELRY BOX #2

8 1/2 inches by 6 1/2 inches

made with beveled glass on colored glass top and clear glass base   $75

item #1D

ROSE JEWELRY BOX

6 1/2 inches by 5 1/2 inches

$90     item #42

BUY A UNIQUE GIFT

FOR A LOVED ONE!